Don't miss the latest stories
Share this
Goodyear Creates Airless Tires For New Moon Buggy To Brave Lunar Extremities
By Nicole Rodrigues, 14 Aug 2022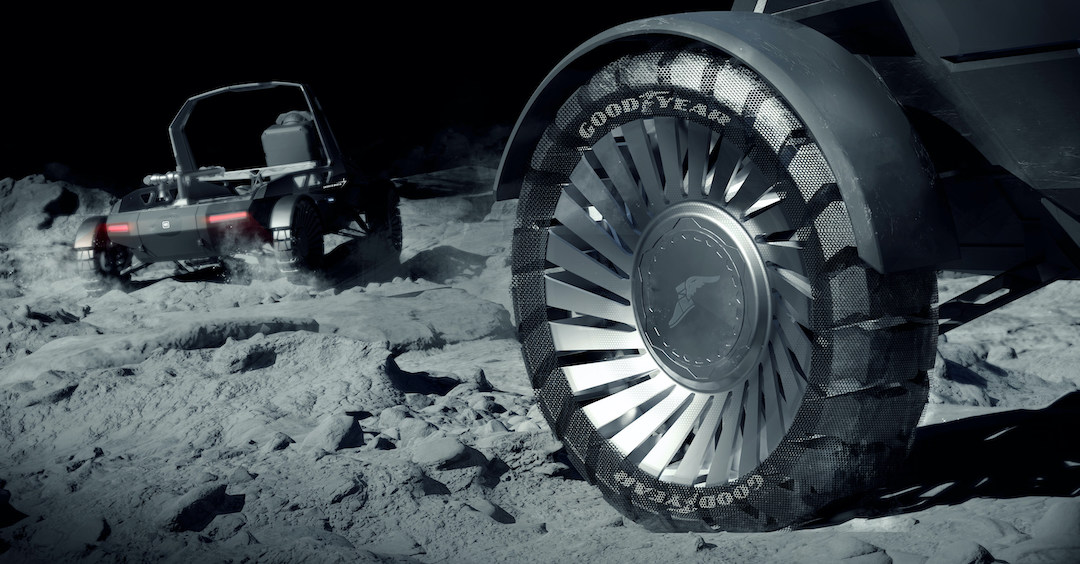 General Motors and Lockheed Martin are launching a new lunar rover into space, and they have enlisted the help of tire manufacturer Goodyear to develop a set of rims that can withstand the Moon's perilous environment.
To take on that challenge, Goodyear looks to its airless tires, which rely on rubber ribs instead of air to hold the outer tread together.
According to CNN, for the upcoming moon buggy, Goodyear will be using an elastic wire mesh so that the vehicle can easily ride over the rough terrain of the Moon. It will also be made from a tensible metal material instead of rubber.
The result is an open webbing of metal that replaces the typical rubber form. In comparison, the special metal alloys are more capable of handling extreme temperatures.
However, the process of testing out these wheels was revealed to be quite a moonshot in itself, due to the difficulties with simulating the intense cold and heat of the Moon on earth. To resolve that, the team was believed to have used a vacuum to recreate the air.
The traditional rubber types are taking a back seat for this operation, mainly because of the incredible turns of weather that occur on the Moon. Temperatures during the day can reach up to 260°F and dip drastically to -280°F come nightfall.
Atmospheric radiation and an intensely coarse coat of dusting on the Moon would further aggravate unpredictable conditions, elevating the risks of rubber ones blowing up on their own.
In addition, the absence of an astronaut operator for the buggy would also mean that there wouldn't be any person present to tackle unexpected punctures. Airless versions that Goodyear manufactures for use on Earth are typically used on autonomous cars for the same reason.
In the past, rovers were designed to be utilized for brief durations before being disposed of. As this new electric fleet is designed to be used for an extensive period, durability is necessary to endure repeated use without requiring an astronaut to act as a "lunar triple-a."
This is not Goodyear's only innovative solution in recent times. Earlier this year, it rolled out more sustainable products made from soybeans, and dandelions, to help navigate climate change.
The new lunar-explorer is expected to be up and waiting on the Moon for NASA by 2025.
[via Motor1 and CNN, cover image via PR Newswire]
Receive interesting stories like this one in your inbox
Also check out these recent news