Don't miss the latest stories
Share this
Pringles Finds New Mascot Out In Nature In The Form Of A Mustachioed Spider
By Mikelle Leow, 28 Jun 2022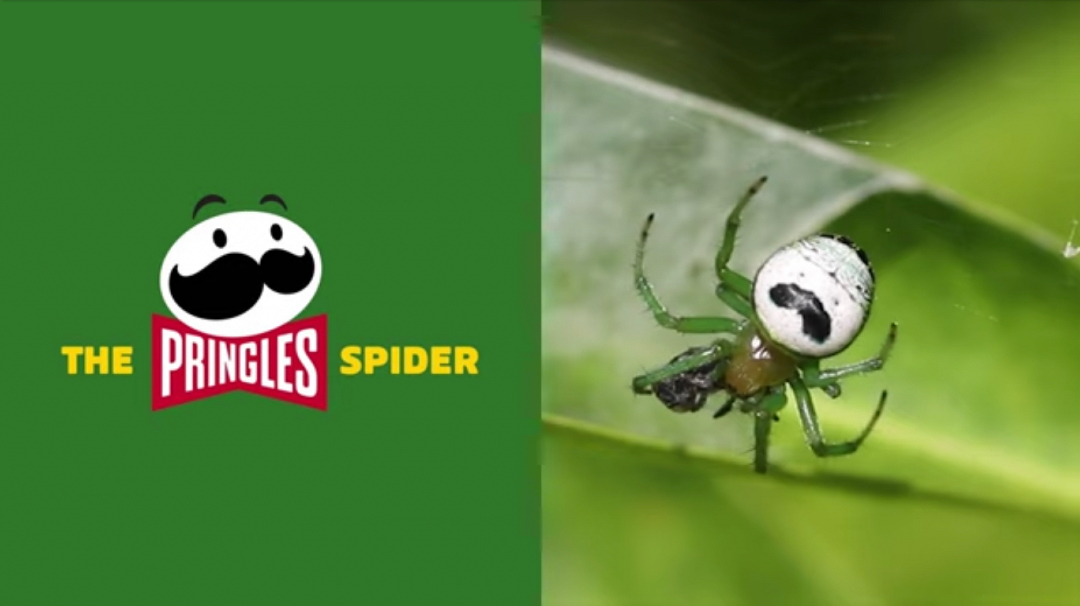 Video screenshot via Pringles
Was Mother Nature the original designer of the Pringles logo?
It turns out that, in terms of where he stands as a mascot, Mr P (yes, that's his name) isn't single like a Pringle. The potato chip brand has found Mr P's eight-legged counterpart out in the wild, and it's now making its case about having the arachnid named after it.

Officially, this lesser-known character with the spiffy good looks is known as the Kidney Garden Spider, and it's most commonly seen in parts of Asia like India, Indonesia, Malaysia and Thailand.

The spider's abdomen sports distinct markings that resemble the features of Pringles' mustachioed mascot, including his slanted hairline, beady eyes, and facial hair.

Inspired by nature, Pringles has launched a petition to have the International Society of Arachnology change the spider's name to become the 'Pringles Spider'.

Image via Pringles

"One look at this incredible spider and it hits you—that spider looks just like the Pringles logo. Once you see it, you can't unsee it… the resemblance is uncanny," describes Pringles' parent Kellogg's.

The company adds: "Pringles can't simply sit back and do nothing when there is something in the wild this WILD—this natural phenomenon must be addressed." In other words, once Pringles pops, it can't stop.

Should it actually convince the board to rename the spider, Pringles says it has a limited number of chip cans to give away to fans who have been supporting this cause. While there's an eight-to-a-kajillion chance of this ever happening, it's not impossible—there's an ancient cephalopod officially named after Joe Biden, a millipede species named after Taylor Swift, and a moth named after Donald Trump.
Fans can join the petition on the dedicated Pringles Spider site, where they can even adopt a virtual 'Pringles' arachnid of their own.
Receive interesting stories like this one in your inbox
Also check out these recent news