Don't miss the latest stories
Share this
Construction Blocks That Work Like LEGO Are Produced From Unrecyclable Plastics
By Mikelle Leow, 25 Jan 2022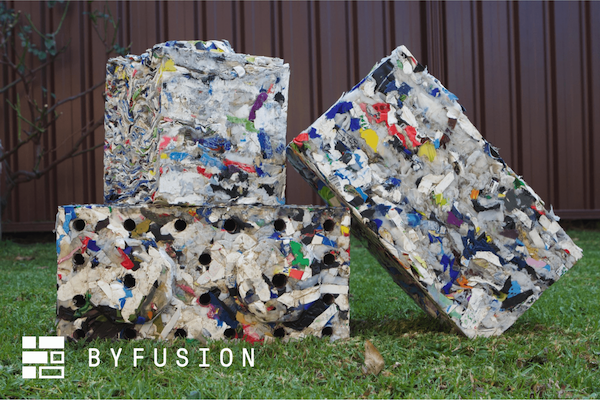 It's been stressed for years now that the manufacture and disposal of single-use plastics are key perpetrators of climate change. Unfortunately, there are several reasons for the material still being a mainstay: It's cheap, lightweight, and prolongs shelf life. The use of plastic is so rampant, recycling infrastructures are having a hard time managing it.
Boise, Idaho, however, is finding a workaround for this conundrum. Past initiatives asking residents to sort unrecyclable plastics haven't worked out as well, so the city has now teamed up with Los Angeles environmental startup ByFusion to squeeze unwanted plastic into building blocks.
The firm says the components are the "world's first construction-grade building material made entirely from recycled (and often un-recyclable) plastic waste."
Used plastics are steamed and compressed into 8 x 8 x 16-inch cubes called 'ByBlocks', which are sized the same as standard concrete blocks. All this is done through patented machines ('Blockers') that shape them into colorful, unprocessed squares.
View this post on Instagram
Each ByBlock weighs 10 pounds lighter than the typical hollow concrete block while sharing the same R-value (thermal resistance). The components can be used to build numerous structures, including privacy fencing, retaining walls, sound walls, accent walls, sheds, bus stops, and furniture.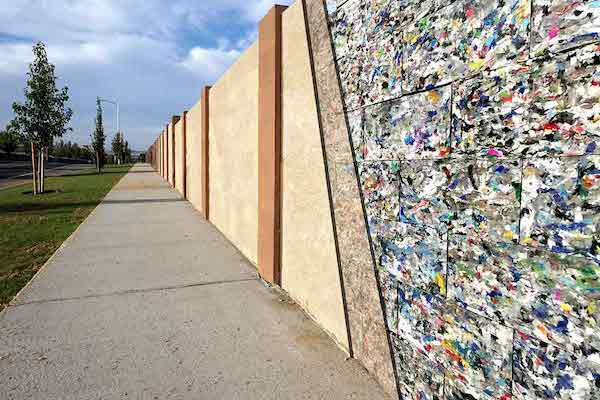 Already, Boise's Manitou Park has a ByBlock bench sculpted from eco blocks of yogurt cups and disposable utensils, as reported by Boise State Public Radio.
To meet all kinds of construction needs, ByBlocks arrive in a handful of variations. There are interlocking bricks with protrusions on top that resemble LEGO blocks to be connected to similar pieces, as well as flat versions that can be fitted with other structures like roofs, according to Fast Company. In time, the startup hopes to introduce more options in other sizes.
ByFusion says that the forming of ByBlocks is carbon-neutral and involves no chemicals, fillers, glues, or additives. And since the company doesn't sort nor melt the plastic—but simply squeezes discarded items together—the output always weighs the same as the input. 30 tons of unwanted plastics, for instance, make a 30-ton ByBlock. Not only does this yield a greater end product, but it also keeps costs low since the sorting of plastics can be cumbersome and expensive.
The absence of processing has its arguable drawbacks. ByBlocks aren't as smooth as concrete blocks and can shed plastic pieces, and the nature of plastics makes them vulnerable to sun exposure.
However, they can still be painted over or coated with weather-resistant material, and are much easier to cut into.
View this post on Instagram
A full plant in Los Angeles is in full swing and is able to convert 450 tons of plastic annually. ByFusion, which launched in 2017, has also partnered with Tucson, Arizona, and an elementary school in the Hawaiian island of Kauai, where it is building a pavilion crafted from ocean debris and fishing nets.
The startup aims to roll out 12 more Blockers nationwide, as well as expand overseas, with a wish to reach a recycling goal of 100 million tons of plastic by 2030.
[via Fast Company and Core77, images via ByFusion]
Receive interesting stories like this one in your inbox
Also check out these recent news