Don't miss the latest stories
Share this
Bored Ape NFTs Land Starring Roles In New Animated Comedy Series, Somehow
By Mikelle Leow, 01 Dec 2021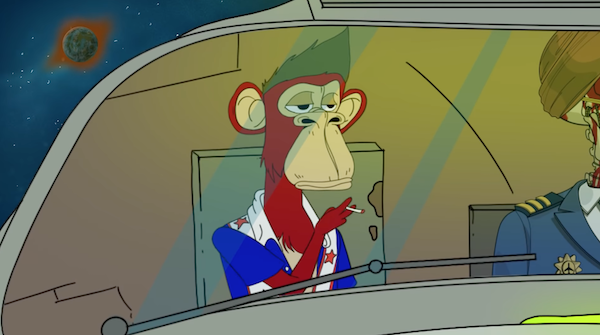 Video screenshot via The Red Ape Family
If you're in search of
a cartoon series that could be the next
Bojack Horseman
or
South Park
, the new
Red Ape Family
show is not it.
However, if you're an
NFT collector looking to be remotely entertained while shopping for digital collectibles, then this series will fill those voids. Maybe.
The Red Ape Family is
a new animated series featuring characters from the iconic
Bored Ape Yacht Club
non-fungible token collection. You can watch it for free
on YouTube
. And the plot? Objectively, it's all over the place, because the main point of the show isn't about telling a congruent story but to serve as an elevator pitch to sell more NFTs.
As pointed out by
Motherboard
, each episode is simply a drawn-out showcase of NFT lions and apes, and jokes that don't land.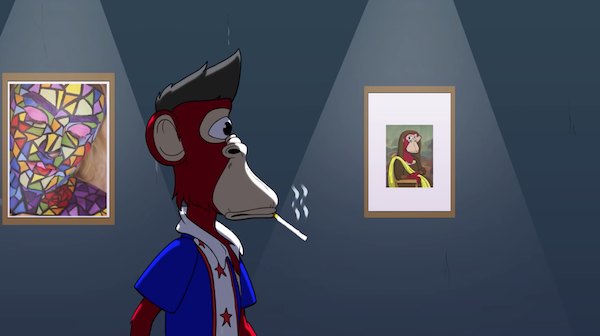 Video screenshot via The Red Ape Family
The objective becomes
immediately clear: showrunners want collectors to purchase any of their 333 NFTs by displaying as many of them as possible, and any vague emotional investment generated is a bonus.
the va's is bad
the sfx are bad
the animation is bad
everything about this sucks

— Festive Lychee (@Fruity_Lychee) November 28, 2021
While the series,
whose executive producer is rapper 2 Chainz,
asserts
itself to be the "world's first animated comedy series powered by blue-chip NFTs," the title for the actual world's first NFT cartoon has already been claimed by Mila Kunis and Ashton Kutcher-backed show
Stoner Cats
since July.
With that being said,
collectors might find some gratification from the Bored Apes-starring show, if not from its rough quality. It claims that a quarter of streaming revenue will be spent on "blue-chip NFTs" as well as ownership allotments for token holders.
"We didn't just want
to hold BAYC NFTs and watch them appreciate in value," said
The Red Ape Family
writer Chris Goward in an interview with
The Bored Ape Gazette
blog. "After some research, we discovered that there was a huge gap in the market… That's why we decided to do something that had never been done before."
Watching that red ape family thing so you guys don't have to pic.twitter.com/fRTGIMaofi

— HPX (@handsplasticx) November 29, 2021
Good example of this episodes writing generally what the fuck is even going on here pic.twitter.com/PH1jTEZMYD

— HPX (@handsplasticx) November 29, 2021
[via
Motherboard
, videos and images via
The Red Ape Family
]
Receive interesting stories like this one in your inbox
Also check out these recent news