Don't miss the latest stories
Share this
Van Gogh Painting's Stray 'Brush Strokes' Discovered To Be An Insect & Its Trail
By Ell Ko, 26 Oct 2021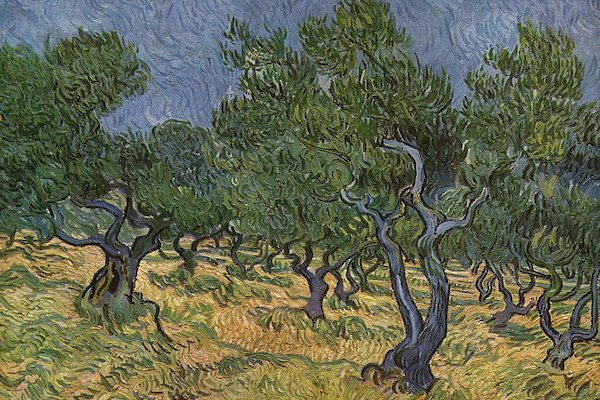 Image via Vincent van Gogh / the Kröller-Müller Museum (public domain)
Life as an insect
seems pretty simple until you fly into a sticky mass of pretty-looking color and find yourself in a not-so-pretty situation. The only way out is to scramble in a flurry of panicked limbs until you either make it out or succumb to the hues.
Then, that struggle
is forever immortalized. Because those colors belong to a Vincent van Gogh painting, the artist's revered status means that the evidence left behind is now worth millions.
That's the tale
of a discovery made in the July 1889 piece of Van Gogh's olive grove paintings, a 15-part series that is now an exhibition at the
Dallas Museum of Art
after being the subject of a three-year research project carried out by a global team of curators and conservators. Right in the middle of the
Olive Grove
, a tiny insect had left an even tinier trail.
Adventures with Van Gogh | @DallasMuseumArt has opened a show on Vincent's series of 15 olive grove paintings. Among the discoveries of a three-year research project was finding a trail left by a small insect that crawled through the artist's wet paint. https://t.co/AIDdYUkbsg

— The Art Newspaper (@TheArtNewspaper) October 22, 2021
This hadn't been
noticed in the time this painting has been on display at the Kröller-Müller Museum in Otterlo, the Netherlands. Despite being 18cm (7.08") long, which is almost a quarter of the painting's height, it was lost thanks to its minute size and the painter's brushstrokes. Only when the painting was examined under a microscope was the track revealed.
Where did it come from,
and where did it go? The insect could've been trapped in Van Gogh's studio indoors, or at the scene of the painting: the olive grove itself. More investigation into the painting suggests the latter; apart from the insect tracks, it turns out that this piece of work has many other hidden secrets in its midst.
The Art Newspaper
reports that a fragment of some segment of flora—a blade of grass, perhaps, or the stem of a plant—was found embedded into the painting, along with what looks like a seed and some sand particles. In a different painting in the series,
Olive Trees
, the paint had
embalmed a grasshopper
.
Van Gogh created
this series of paintings between June and December 1889, inspired by the olive groves around the asylum he stayed at in Saint-Rémy, France. "My ambition is truly limited to a few clods of earth, some sprouting wheat. An olive grove," he once purportedly
wrote
to his friend, Émile Bernard.
It's unclear if
the voyaging insect managed to escape or was buried alive in paint following its unfortunate run-in with the arts. But unlike the grasshopper in the other painting, there's no trace of this one. We can hope that it clawed its way out.
[via
The Art Newspaper
, image via
Vincent van Gogh / the Kröller-Müller Museum
(public domain)]
Receive interesting stories like this one in your inbox
Also check out these recent news