Don't miss the latest stories
Share this
Slouching Unaware? This Robot Sets Your Posture Upright When You Forget
By Ell Ko, 25 Oct 2021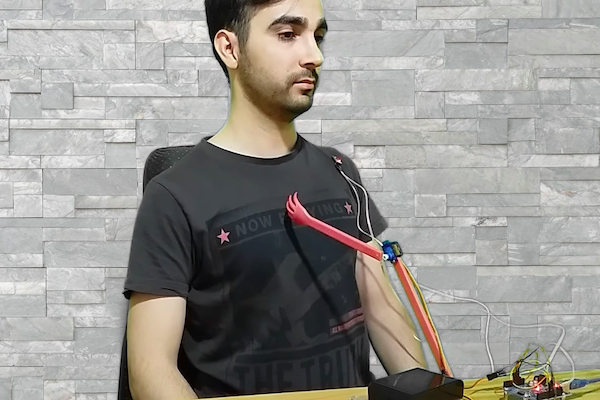 Image by Norbert Zare and featured with permission
Sitting at a desk
all day gets to even the best of us sometimes. Sometimes, we're not even aware of a terrible slouch until we suddenly sit up straight and the cacophony of cracking in our backs has us going, "
Oh.
"
If only there were
someone—or something—there to remind us to remain seated firmly upright.
You may be pleased
(or scared, or both) to know that there is, indeed, such a reminder in store. Plus, it's one that can be put together in the comfort of your own home, perhaps while slouching over a desk.
Enter the DIY posture-fixing
robot created by
Norbert Zare
. Its simple premise is reflected in its simple setup: a small motion-sensing machine that will extend a friendly, yet slightly threatening, hand toward the user when a slump is detected, prompting them to jolt back upright.
"Most of the posture
corrector devices aren't fun," he explains concisely. "So I built a posture corrector robot."
Hackaday reports that
that the body has to be at least 55 degrees off vertical to trigger the hand to swing forward, as if to warn, "stop that." Silent, but effective.
"This simple Arduino-based
build uses the ubiquitous MPU-6050 which provides 3-axis acceleration and 3-axis gyro data all processed on-chip,"
Hackaday
describes. This will allow it to measure "where you're going, which way you are orientated and how fast you are rotating."
Thanks to its I2C bus,
the robot can be used with an Arduino or a Raspberry Pi, making it relatively accessible especially for beginners. The code required for the project can be accessed via
GitHub
and its wiring is shown on the
project page
on
Hackaday.io
.
Check out the
robot in action in Zare's video below, or peruse the other highly specific, yet very necessary, creations on his channel linked
here
.
[via
Input
, video and cover image by
Norbert Zare
and featured with permission]
Receive interesting stories like this one in your inbox
Also check out these recent news