Don't miss the latest stories
Share this
Nearby Asteroids Contain $11 Trillion Worth Of Precious Metals, Mining Possible
By Ell Ko, 07 Oct 2021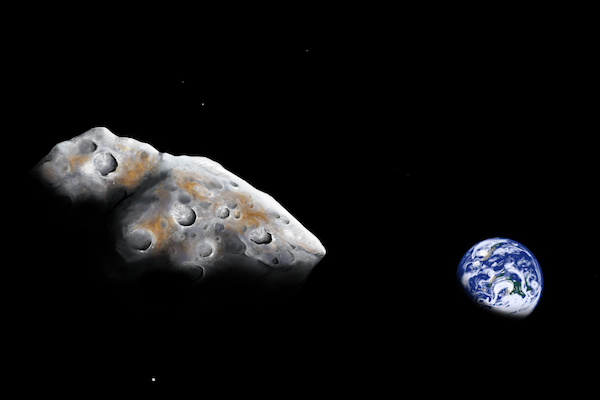 Image via Addy Graham / University of Arizona
It was reported
in August that NASA and the University of Arizona were planning to investigate an asteroid known as
16 Psyche
, a "goldmine" that may be worth more than US$10,000 quadrillion.
Now, new research
and calculations indicate that this isn't the only one with the potential to make everyone on Earth rich beyond our collective wildest imaginations. One of two metal-rich asteroids hovering near this planet might contain precious metal worth around US$11.65 trillion.
Named 1986 DA,
it was analyzed alongside its partner, 2016 ED85. Both of these are said to have similar spectral signatures to 16 Psyche, and have been declared to be "possible targets for asteroid mining in the future," according to
the paper
published in
The Planetary Science Journal
last week.
These findings were
put together based on spectrum analysis. This is a method investigating electromagnetic emissions via telescopes, which will allow scientists to learn more about the properties of distant stars and planets. In this study, the team used the NASA Infrared Telescope Facility in Hawaii.
While 16 Psyche
is too far away to accurately analyze using this method, it's hoped that a
NASA mission
scheduled for 2022 will allow experts to learn more about it.
Alongside these two
newly discovered asteroids, the team also identified four other probable asteroid families located in the outer region of the main asteroid belt, where 16 Psyche is conveniently located.
"We believe that
these two 'mini Psyches' are probably fragments from a large metallic asteroid in the main belt, but not 16 Psyche itself," states David Cantillo, study co-author, in a
press release
. "It's possible that some of the iron and stony-iron meteorites found on Earth could have also come from that region in the solar system too."
Apart from investigating
the asteroids themselves, the paper also explored the potential of mining 1986 DA, and subsequently, other asteroids that may have yet to be discovered.
In particular, 1986 DA
is said to potentially contain more iron, nickel, and cobalt than all the metal reserves on Earth put together.
[via
Interesting Engineering
, image via
Addy Graham / University of Arizona
]
Receive interesting stories like this one in your inbox
Also check out these recent news