Don't miss the latest stories
Share this
This 3D-Printed Solid Gold Avocado Bagel Is A Millennial Treasure Worth $2.9M
By Ell Ko, 17 Sep 2021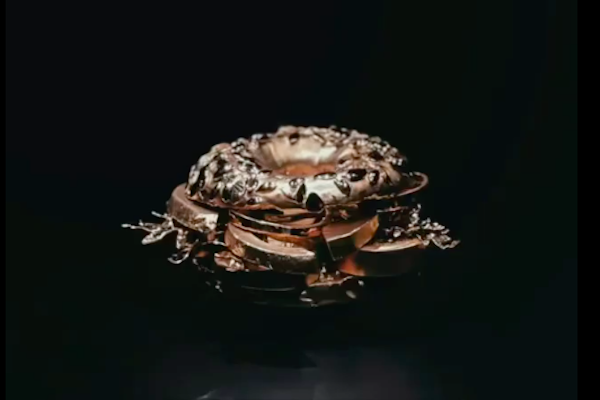 Image via Galerie Rother
Avocado bagels
are great. So great, in fact, that this one has been memorialized by artist
Tim Bengel
to ensure that although it has been devoured, it'll never be forgotten.
Cast in solid gold,
this very special brunch treat currently part of Berlin Art Week is worth US$2.9 million.
The bagel, titled
Who Wants To Live Forever?
, was modeled after one that Bengel had in real life. It consists of two pumpkin bagel halves, five tomato slices, 10 leaves of arugula, five onion rings and five avocado strips. All of these were scanned and 3D-printed to create the final product.
But it's not
just avocado toast, Bengel explains in his Instagram video, which details the process of creating the sculpture. And the avocado is not "just" the avocado.
"For me, the
avocado is one of the symbols of the Millennial generation, and I want to capture the Zeitgeist in this work," he states in the video's subtitles.
In another post
about the cultural significance of the avocado, Bengel declares, "it's clear to me, the avocado is taking a key role in our Millennial culture." For better or for worse, he continues, it's the "#GreenGold."
Green gold it
surely is: more than 12 pounds of 18-carat gold was used in this creation. Just the material alone placed the artwork at a value upwards of US$250,000. It's a little significant, though, of the constantly rising prices of avocados.
The reassembled
Midas-esque sandwich weighs more than 26 pounds, according to
Artnet
.
Galerie Rothel
, the art gallery in charge of the sale of the sculpture, had designed a special case for its display. This, as reported by
Stuttgart News
, cost around US$40,000 on its own.
This precious
brunch offering is currently on view at a local restaurant with a very fitting name: Avocado Club. At the end of the year, it'll arrive in the states in time for Miami Art Week.
Careful, though.
This one is definitely going to chip your teeth.
[via
Artnet
, image via
Galerie Rother
]
Receive interesting stories like this one in your inbox
Also check out these recent news