Don't miss the latest stories
Share this
Adobe Launches 3D Version Of Creative Cloud Suite Including '3D Photoshop'
By Mikelle Leow, 23 Jun 2021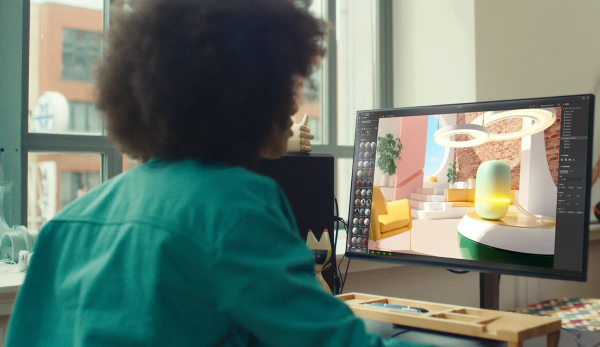 Image courtesy of Adobe Creative Cloud
3D design used
to be a niche, but as the pandemic kicked in and remote work nestled into everyday life, brands and creators turned to the virtual world with
surreal avatars
and larger-than-life
spaces
. Adobe now believes "3D is the next generation of creativity" and is launching an all-new
Substance 3D Collection
to make 3D creation much more accessible.
Having acquired
3D asset companies Mixamo, Allegorithmic, and Medium, Adobe is moving its canvas to the next dimension. Substance 3D is an extension of Creative Cloud that recreates the intuitive "what you see is what you get" interfaces of the 2D-based Photoshop and Illustrator as templates for 3D tools.
Expanding from
the long-running Substance suite, the all-new, AI-powered Adobe Substance 3D collection comprises tools like Stager, Painter, Sampler, Designer, and Modeler—all made to simplify the 3D design process.

Image courtesy of Adobe Creative Cloud
The suite includes
a 3D Asset Library outfitted with thousands of customizable 3D models, textures, lighting systems, and other assets; along with access to Creative Cloud fonts, storage, and more.
Head below
for a rundown of the new Adobe Substance 3D Collection.
Stager: for virtual photography
Built on
the foundation of Adobe Dimension, Substance 3D Stager lets you put together a 3D scene with models, materials, and lighting and align it at various angles for "stunning virtual photographs and renderings."
Painter: 'Photoshop' in 3D
Often regarded
as the "Photoshop of 3D," Substance 3D Painter lets you easily apply textures and materials to 3D objects for photorealistic closeups you can almost touch.
Sampler: for 3D materials in minutes
Substance 3D Sampler,
based on Substance Alchemist, offers a shortcut to creating realistic 3D materials with a simple upload of a photo, and then converting it into a texture and more in mere minutes.
Designer: to create 3D assets from scratch
And if ready-made
elements and filters aren't enough, Substance 3D Design lets you unlock the tools to design 3D textures, filters, materials, and models from scratch.
Modeler: for 3D-modeling that almost feels real
Currently in
private beta mode, 3D Modeler relies on a VR interface to "recreate the natural, organic feeling of sculpting clay with your hands and it lets you interact with your model on the desktop so you can leverage the precision of mouse and tablet controls," Adobe announced in a
blog post
.
Substance 3D Asset Library
Finally, here's
a preview of some of the customizable objects available in the 3D Asset Library, which includes models, lights, and materials.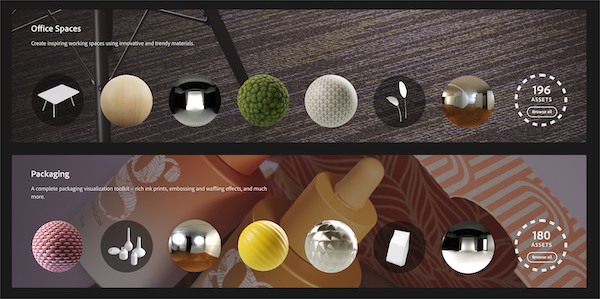 Image courtesy of Adobe Creative Cloud

Image courtesy of Adobe Creative Cloud

Image courtesy of Adobe Creative Cloud

Image courtesy of Adobe Creative Cloud
"The team's goal
was to build tools that are easy to learn, but impossible to outgrow, so that there are no limits to your creativity," details Creative Cloud chief product officer Scott Belsky. "Substance 3D provides the cutting-edge technology that veteran 3D artists require, while making the medium accessible for new 3D enthusiasts."
[via
Adobe Creative Cloud
]
Receive interesting stories like this one in your inbox
Also check out these recent news