Don't miss the latest stories
Share this
TikTok Design Idea That's Probably Wiser To Look At Than Copy: DIY 'Marble'
By Mikelle Leow, 11 Jan 2021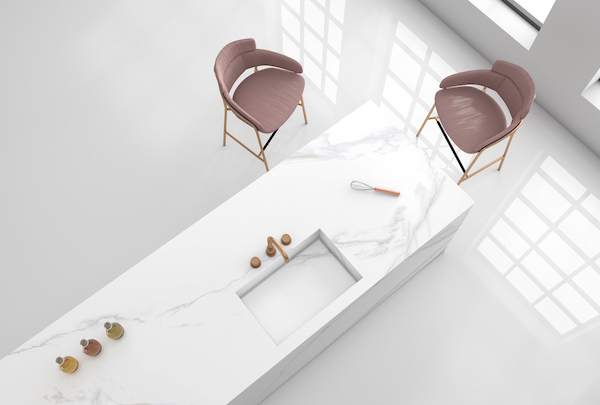 Image via Shutterstock
TikTok is
fast becoming
social media's favorite platform for design inspiration. However, while some trends—like
DIY statement rugs
—are easy to recreate from home, others should probably just be admired from afar.
Melissa Mondragon's
step-by-step process of her granite-turned-"marble" kitchen countertop has amazed many, and her video has since raked in 5.1 million likes.
The video shows
her using a
US$180 DIY kit
to paint marble-like veins onto her countertop, and the result seems pretty realistic.
However, some
home design experts are apprehensive about the process, and have advised beginners against replicating the look.
Interior designer
Iantha Carley
told
Insider
that people would require "some serious art skills" to paint the "veins" realistically. "From some of the photos I've seen, most do not," she added.
Melissa Maker,
the owner of famous cleaning advice YouTube channel Clean My Space, was a little more welcoming of the idea, and said that painting "marble" over granite would be a great "in-between option for someone who is looking to refresh their space but doesn't yet have the budget to replace countertops."
However, she also
noted that the project would be more ideal for "an experienced and confident DIYer," since you'd have to prime the surface and use the right type of paint. Also, the art should be applied on lesser-used spaces, such as "a cabinet countertop or fireplace," not somewhere as heavily used as a kitchen counter.
The video was
also met with some skepticism from viewers, with the top comments reading, "Painting granite should be a crime," and, "This is like putting carpet over real hardwood floors."
Mondragon shared
with
Insider
that the whole process took her and her husband four days, and that they decided to work on the project as they wanted a "neutral, clean-looking space" for photography in their new home.
The first step
was to deep-clean the counter surface before adding a primer to prevent chipping. They then applied a base coat on the countertop the next day, and left it to dry for four hours per layer.
Finally, Mondragon
painted marble-like veins on the counter, which she later related to be the most difficult part, before adding epoxy resin on top to protect against heat and chemicals.
The TikToker
doesn't seem to be frazzled by the negative comments. She told
Insider
, "That's fine. I don't mind negative comments at all because the more people comment on the video, the more interaction there is, the farther it goes."
[via
Insider
, cover image via
Shutterstock
]
Receive interesting stories like this one in your inbox
Also check out these recent news