Don't miss the latest stories
Share this
Meet The SSC Tuatara, Fastest Production Car In The World
By Thanussha Priyah, 16 Nov 2020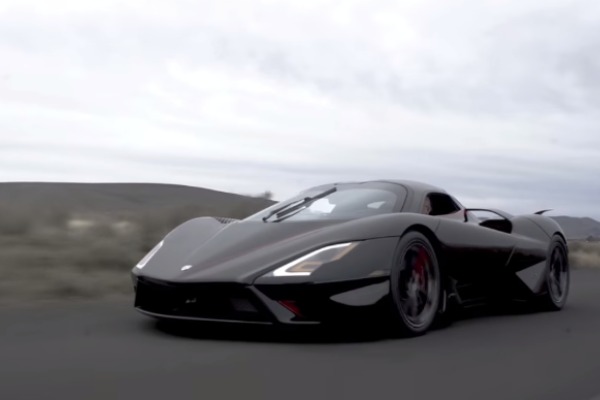 Image via SSC North America
The SSC Tuatara
hypercar has earned the title of the world's fastest production car after generating an average speed of 316.11 mph while driving on a seven-mile stretch right outside of Las Vegas.
The result defeated
two titans in the production car market, Buggatti's pre-production Chiron prototype—which hit 304.77 mph last year—and 2017's Koenigsegg Agera RS at 277.87 mph.
The Tuatara was
driven by 29-year-old Oliver Webb, who hit 301.07mph on the first ride, and 331.15mph on his second trip in the opposite direction.
The average of
both runs became the official fastest time. The record-breaking occasion was confirmed by two witnesses approved by the Guinness World Records.
The Tuatara,
which took 10 years in the making, is named after a lizard native to New Zealand, and shares visual similarities with the reptile too.
The hypercar matches
the lizard's shape but with a curvier style. It sports a low, sharp front with angled headlights to resemble the creature's eyes, while the single windshield wiper mimics the animal's third eye. The rear, fixed up with air vents, takes on the shape of the gills.
The vehicle touts
a 5.9-liter, twin-turbocharged V8 engine beneath its hood, which is able to generate 1,750 horsepower on E85 and 1,350 horsepower on 91 octanes. Weighing a little over 2,700 pounds (1224kg), the Tuatara boasts a seven-speed transmission.
"People may look
at SSC and ask if we belong in the hypercar realm, with such stalwart competitors," SSC founder Jerod Shelby said, per
Bloomberg
.
"This record is so
extremely sweet, knowing that our small organization just achieved something that much more established brands, with much larger engineering and development teams, and obviously larger budgets, have not been able to achieve," he added.
View the car
in action below.
[via
Mashable
, cover image via
SSC North America
]
Receive interesting stories like this one in your inbox
Also check out these recent news