Don't miss the latest stories
Share this
Turning Point USA Removes Anti-Mask Meme After Co-Founder Dies Of COVID Causes
By Mikelle Leow, 31 Jul 2020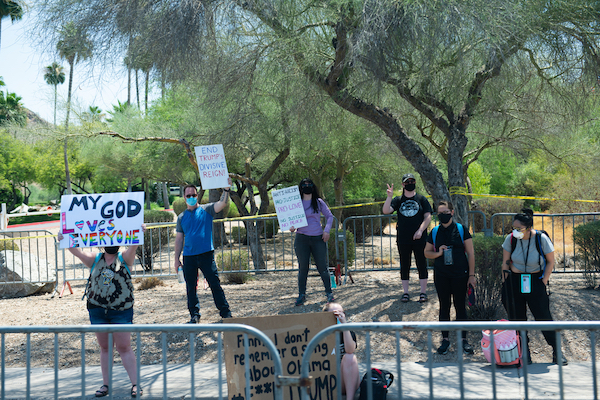 Image via Albert Halim / Shutterstock.com
Memes are all
fun and games until they become a reality. Renowned conservative student group Turning Point USA (TP USA) had to keep its mouth covered after its co-founder, Bill Montgomery, passed away from coronavirus complications on Tuesday.
Charlie Kirk,
who, as a teenager, founded the organization with Montgomery in 2012, mourned the 80-year-old's passing in a tweet, writing, "An American hero died today. Bill Montgomery passed away at 80. He believed in me. He poured his heart and soul and time into me. He took a risk on me, and without Bill Montgomery, there is no @TPUSA. He touched the lives of thousands of young Americans and I will miss him greatly."
Pro-Trump conservative
strategist Caleb Hull also took to his Facebook and Twitter accounts to pay tribute to the late politician. As shown in screenshots obtained by
Politico
, Hull wrote, "Bill Montgomery was my best friend, my mentor, and someone I looked up to like a father for the last five years, but today he lost his fight against COVID-19… I just never thought it could be him that would go. If you ever met Bill, you know this is a huge loss for the world."
On Twitter,
Hull addressed, "I really wish people would just stop politicizing this pandemic and grow up while innocent people around us are dying. You have no idea how painful it is to be forced to sit at home while your loved one dies alone in a hospital."
It seemed,
however, that the rest of the youth group did not get the memo about the Montgomery's death, as a meme ridiculing the wearing of face masks—deemed by some as a political decision—made an untimely appearance on the TP USA Twitter account seven hours after Kirk's announcement, according to
Daily Dot
.
The image showed
a smug Nicolas Cage to depict the message, "Me not wearing a mask while a leftist screams at me from their car across the parking lot at Whole Foods." TP USA even tweeted, "LOL!" alongside the meme.
The group later
took the post down, but was not quick enough to stop internet users from capturing screenshots. It has since resumed with its regular schedule of posting memes that poke fun at "liberal" policies and beliefs.
remember when y'all posted this yesterday? pic.twitter.com/GlmNWnmWbf

— Husker (CEO of Space ANTIFA) Dooo (@_Huskerdooo) July 30, 2020
remember when y'all posted this yesterday? pic.twitter.com/GlmNWnmWbf

— Husker (CEO of Space ANTIFA) Dooo (@_Huskerdooo) July 30, 2020
[via
Daily Dot
, images via
Albert Halim / Shutterstock.com
]
Receive interesting stories like this one in your inbox
Also check out these recent news