Don't miss the latest stories
Share this
Space Force Explains Why Its New Logo Is Not A 'Star Trek' Rip-Off
By Thanussha Priyah, 24 Jul 2020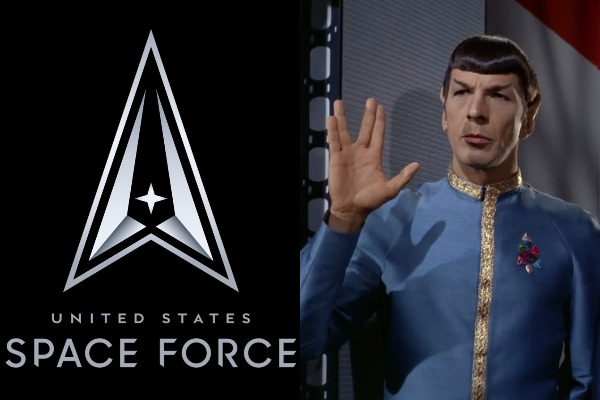 Image via Space Force and IMDb
The latest US
military branch, Space Force, has unveiled its official logo and motto. Unfortunately, it is getting likened to sci-fi show
Star Trek
's Starfleet insignia.
On Wednesday, chief
of space operations General John Raymond posted a photo on Twitter explaining the meaning behind the logo, which shows a silver delta symbol with the Polaris Star.
The silver border
is said to symbolize "protection from adversaries," and the star
refers
to the North Star, Polaris,
noting
the "core values [guiding] the Space Force mission."
The two spires
inside the delta represent the "action of a rocket launching into the outer-sphere," and the
black area
inside "embodies the vast darkness from space."
The phrase "Semper Supra"
has also been unveiled as the Space Force's official motto, and is a Latin phrase meaning "always above."
However, many internet users
are claiming that the official logo seems to have ripped off
Star Trek
's Starfleet logo.
"I mean. Anyone
who's not a super fan would see the Space Force logo and understandably think it's something to do with
Star Trek
," one user
wrote
.
The agency has
justified
that it did not plagiarize the fictional show's logo by stating that the delta was already used in space organizations "as early as 1961," while the iconic television show was launched in 1966.
We are building a new Service to secure the space domain... the ultimate high ground. Our strategic imperative is to ensure that our space capabilities & the advantages they provide the nation & our Joint and Coalition partners are always there. #SemperSupra! https://t.co/5tIglNUAP1

— Gen. Jay Raymond (@SpaceForceCSO) July 22, 2020
The logo has many elements, but the silver outer border signifies defense and protection from all adversaries and threats emanating from the space domain. The U.S. Space Force protects. #sempersupra pic.twitter.com/RG2b0wJgoM

— United States Space Force (@SpaceForceDoD) July 22, 2020
'Semper Supra' (Always Above) is our official motto and it represents our role in establishing, maintaining, and preserving U.S. freedom of operations in the space domain. pic.twitter.com/S6cW3ZbHQR

— United States Space Force (@SpaceForceDoD) July 22, 2020
I mean. Anyone who's not a super-fan would see the Space Force logo and understandably think it's something to do with Star Trek. pic.twitter.com/OqHJWagRfF

— JMac (@otherjmac) July 23, 2020
The delta was first used in space organizations as early as 1961 and has inspired generations of space professionals. #sempersupra pic.twitter.com/SwV3LEFRss

— United States Space Force (@SpaceForceDoD) July 22, 2020
My theyfriend just saw the new OFFICIAL US SPACE FORCE logo on fb and turned to me and we both said STAR TREK. I guess they went where no other space force has gone before. pic.twitter.com/GPzlpHOEnq

— Nadine Chemali نادين (@femmocollective) July 24, 2020
The Space Force has apparently finally settled on a logo and a motto.

The logo, to the surprise of no one, is a continued plagiarism of Star Trek (a delta symbol with a North Star inset)

Their motto? "Semper Supra," which is Latin for "Always Above."

🤦‍♂️🤦‍♂️🤦‍♂️🤦‍♂️🤦‍♂️

— Jason Boyd (@JasonBoydWrites) July 22, 2020
SPACE FORCE: hey can I copy your homework?

STAR TREK: sure, just change it up a bit so it doesn't look obvious you copied.

SPACE FORCE: sure thing https://t.co/IxrTpAOM1F

— Tom (@TomHeartsTanks) July 22, 2020
[via
CREDIT
, cover image via
Space Force
and
IMDb
]
Receive interesting stories like this one in your inbox
Also check out these recent news