Don't miss the latest stories
Share this
Guy Singing Bruno Mars To Sparse Crowd At White House 4 July Party Becomes Meme
By Mikelle Leow, 06 Jul 2020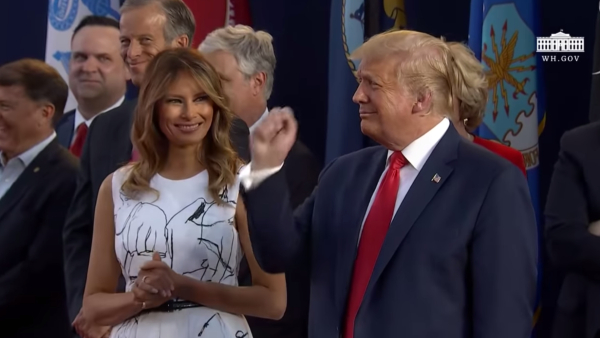 Video screenshot via The White House
Anyone who's ever
felt validated by their three staunch followers now has a new meme they might be able to resonate with.
During the
White House's Salute to America celebration on 4 July, a military man was filmed attempting to lift the spirits of his audience as he belted out Bruno Mars'
Uptown Funk
.
He and his cover band
then raised their mics at the crowd, with the camera panning over to a near-empty audience.
"The White House
Fourth of July entertainment is a white guy singing Bruno Mars," a viral tweet read.
Social media users
later likened the moment to awkward events in their lives where they'd be the only ones pumped up about certain things. "When you post a tweet thinking 'ooh this is fire' and it gets zero likes," one Twitter user wrote. "Me doing standup comedy after the vaccine," another person teased.
Others brought up
the 4 July celebrations in 2015, when the Obamas had the real Bruno Mars perform at the party to an appeased, fully-packed crowd.
The White House 4th of July entertainment is a white guy singing Bruno Mars pic.twitter.com/fuHkAtgaZx

— Scott Gairdner (@scottgairdner) July 5, 2020
all sixteen people there are having a blast https://t.co/elEHZ0sF84

— Matt (@matthwatson) July 5, 2020
Why did everyone come dressed as empty chairs?

— FordDude (@Ford_Dude6) July 5, 2020
lmaoooooooo at Obama having the actual Bruno Mars at his 4th of July party in 2015 https://t.co/OAdkKeAOnD pic.twitter.com/kfrRPZal4w

— tyler oakley (@tyleroakley) July 5, 2020
me doing standup comedy after the vaccine pic.twitter.com/qKWfIimCxW

— Luke Mones (@LukeMones) July 5, 2020
me tweeting about ever minor inconvenience as if my followers give a fuck pic.twitter.com/oK2PyqXROU

— 𝐚𝐦𝐢𝐧𝐚 🍓 (@lovrofminecth) July 5, 2020
when ur trying to hype yourself up out of your depressive episode
pic.twitter.com/FTUvWmJpya

— hot girl hal🌻 #BLM (@hallebear_) July 5, 2020
When you post a tweet thinking "ooh this is fire" and it gets 0 likes pic.twitter.com/gBD5yeroIl

— Giulia Rozzi (@GiuliaRozzi) July 5, 2020
Me asking chat for opinions pic.twitter.com/XGdwfqm3oX

— GNEiL48 (@GaryNeil48) July 5, 2020
Somewhere Celine Dion is eating a bowl of vanilla ice cream and slice of Wonder Bread with a dab of Miracle Whip on it and thinking "Damn. That's the whitest thing I've ever heard in my life."

— Smashin' with Dale (@smashtransistor) July 5, 2020
@realDonaldTrump - Now let's try this- Same song, Same Lawn: this time with a crowd & a real @flotus @MichelleObama pic.twitter.com/n8tNapa1Tx

— Eric Ortner (@eortner) July 5, 2020
[via
BuzzFeed
, cover image via
The White House
]
Receive interesting stories like this one in your inbox
Also check out these recent news