Don't miss the latest stories
Share this
Barnes & Noble Cancels 'Diverse' Redesigned Covers After 'Blackface' Outrage
By Mikelle Leow, 06 Feb 2020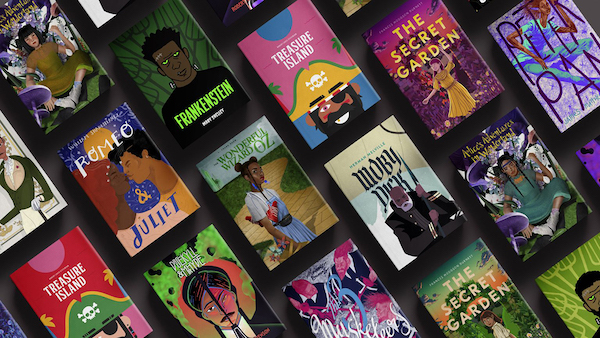 Image by TBWA\Chiat\Day\New York via Know Your Meme
Barnes & Noble
failed to get in the good books of customers after announcing that it was releasing new book covers that replaced classic literary characters with people of color.
The Diverse Editions,
created with the help of advertising agency TBWA\Chiat\Day\New York, were published by Penguin Random House for Black History Month, according to a report by
Ad Age
.
To source for suitable titles,
the team scanned public domain text using artificial intelligence to filter books that didn't explicitly mention characters' ethnicities or skin colors, and then commissioned seven artists, mostly youths of color, to design 60 book covers with the protagonists reimagined as various ethnicities.
However, the algorithm
seemed to fail on picking up cultural nuances that influenced the perceptions of human readers.
Readers criticized that
some of the curated classics implied the races and heritage of the characters. For instance, even though
The Secret Garden
had not stated the skin color of its protagonist, customers said the context hinted it. After all, the protagonist grew up in India during a time when the country was colonized by the British and natives served as slaves.
Moby Dick
also made several references to slavery.
Readers also thought
the book retailer could have done better by featuring literature written by people of color, rather than replacing the skin colors of classic book characters.
Author L.L. McKinney
described the redesigned book covers as "literary blackface."
Following public outcry,
Barnes & Noble said it was suspending the campaign.
"We acknowledge the voices
who have expressed concerns about the 'Diverse Editions' project," the bookseller responded. "The covers are not a substitute for black voices or writers of color, whose work and voices deserve to be heard."
TBWA\Chiat\Day\New York
also published a statement to apologize for causing upset. The ad agency explained that the book covers were recreated in hopes of eradicating "biases from our shared assumptions about literary characters."
"We sincerely apologize
for any offense this has caused," the agency commented.
Another version of literary blackface....eye... https://t.co/uF1u8uEfv8

— LL McKinney (@ElleOnWords) February 5, 2020
What?!? No! Is it really this hard? People sat down & had meetings & put a lot of energy & money into creating covers f/black people on books w/ the same old stories INSTEAD of promoting books written by black authors & featuring black characters?WTF?! 😡 https://t.co/sgGGglaiNu

— Tracey Livesay (@tlivesay) February 5, 2020
Barnes & Noble was like, well if Netflix can change the thumbnail to show the Black extra in the background of a show they want you to watch...

— Bethany C. Morrow (@BCMorrow) February 5, 2020
Writers of colour waiting for recognition:

Barnes and Noble: So, hear me out, let's get white stories and characters and put them in blackface. Sound good? https://t.co/iDXbywPV8T

— Chimene Suleyman (@chimenesuleyman) February 5, 2020
The Diverse Editions event at our @BNFifthAvenue location originally scheduled for this evening has been cancelled. Please see our statement: pic.twitter.com/jGquff9MyM

— Barnes & Noble (@BNBuzz) February 5, 2020
1/3: We hear and acknowledge the many voices who have expressed concerns about the Diverse Editions project. Diverse Editions was intended to remove...

— TBWA\Chiat\Day NY (@TBWAChiatNY) February 5, 2020
2/3: ... biases from our shared assumptions about literary characters. The jackets were designed by artists from different ethnicities and backgrounds to create a more inclusive visual expression of classic works in which the race or...

— TBWA\Chiat\Day NY (@TBWAChiatNY) February 5, 2020
3/3: ... ethnicity of the protagonist was never explicitly stated. The covers were never intended to be a substitute for writers of color, whose work absolutely deserves to be supported. The project has been discontinued and we sincerely apologize for the offense it has caused.

— TBWA\Chiat\Day NY (@TBWAChiatNY) February 5, 2020
[via
Ad Age
, images via various sources]
Receive interesting stories like this one in your inbox
Also check out these recent news