Don't miss the latest stories
Share this
2020's New Emojis Include 'Bubble Tea', 'Italian Hand', Anatomical Body Parts
By Mikelle Leow, 30 Jan 2020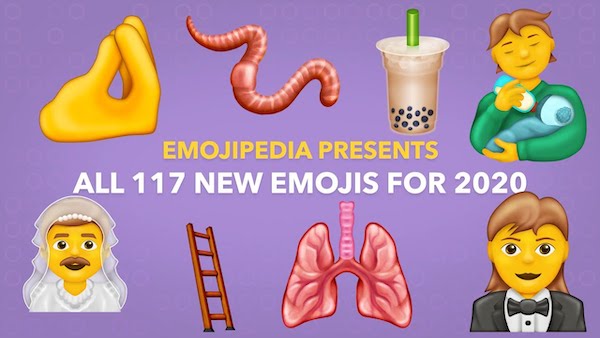 Sample concept images of Emoji 13.0 by Emojipedia
The Unicode Consortium,
the global standard for emoji, has released the
confirmed list
of emoticons rolling out in 2020. Emoji 13.0 comprises 117 new emojis, which will make their way to mobile devices in the second half of the year.
The update includes
62 brand new icons, such as the long-overdue
bubble tea emoji
, along with a
transgender flag
,
polar bear
,
black cat
,
piñata
, anatomically-accurate
heart
and
lungs
, and a
smiling face with a tear
.
Also coming to
screens this year are 55 gender and skin-tone variants, including gender-neutral "Mx" emojis. One noteworthy design that will be available in various skin tones is
pinched fingers
, also known as "Italian hand."
Since the list
has just been finalized, the official designs by vendors like Apple, Samsung, Twitter and Google aren't ready yet, but you can get a gauge of how they might look thanks to
concept illustrations
by emoji reference website Emojipedia found below.
As for when
the new emojis will appear on mobile phones, a Unicode representative informs
DesignTAXI
that they're likely to arrive in September or October 2020, though certain platforms might debut the icons earlier.
📝 Now approved: 117 new emojis for 2020 #Emoji2020 https://t.co/SojQuXZvv6 pic.twitter.com/sHp7GDsSal

— Emojipedia 📙 (@Emojipedia) January 29, 2020
New in Emoji 13.0: Smiling Face With Tear #Emoji2020 https://t.co/4TEigZ6vbC pic.twitter.com/H4OiEdcu5k

— Emojipedia 📙 (@Emojipedia) January 29, 2020
There is a Boba Emoji in 2020! I REPEAT! THERE IS A BOBA EMOJI IN 2020!!! pic.twitter.com/cbyYHHMHfV

— Brian Tong (@briantong) January 29, 2020
New in Emoji 13.0: Pinched Fingers, with skin tone support #Emoji2020 https://t.co/nSYHGVUTJn pic.twitter.com/AFGuZf2azR

— Emojipedia 📙 (@Emojipedia) January 29, 2020
New in Emoji 13.0: Transgender Flag #Emoji2020 https://t.co/DT0nXZx6HM pic.twitter.com/y3oEUHZUTD

— Emojipedia 📙 (@Emojipedia) January 29, 2020
New in Emoji 13.0: Person With Veil, with skin tone support #Emoji2020 https://t.co/QXijGdwiZX pic.twitter.com/dp2UbWSFFF

— Emojipedia 📙 (@Emojipedia) January 29, 2020
New in Emoji 13.0: People Hugging #Emoji2020 https://t.co/FyJIKTZgTH pic.twitter.com/om8Vr0Tw3C

— Emojipedia 📙 (@Emojipedia) January 29, 2020
New in Emoji 13.0: Anatomical Heart #Emoji2020 https://t.co/T3uYrb1SDz pic.twitter.com/7YboNQTJmq

— Emojipedia 📙 (@Emojipedia) January 29, 2020
New in Emoji 13.0: Black Cat #Emoji2020 https://t.co/j13V1ud5zm pic.twitter.com/6zaGV8OBbG

— Emojipedia 📙 (@Emojipedia) January 29, 2020
[via
Unicode
, video and images via
Emojipedia
]
Receive interesting stories like this one in your inbox
Also check out these recent news